ABOUT US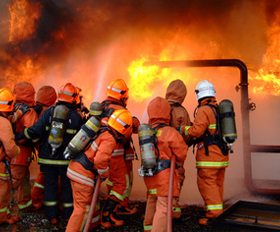 Automation Asia Associates established in the year 1989. The Proprietor of the company Mr. Asokan Athikkote is fire protection engineers and contractors and have experience in fire protection field for more than 30 years. We have highly qualified & well Experienced Engineers supported by skilled & experienced erection team members consisting of Supervisors and work force who specialize in erection of fire Safety devices and related fabrication & installation etc
Automation Asia Associates specializes in complete project consulting, design, supply, installation, testing and commissioning for the following systems::
Fire Hydrant System, Sprinkler System, Water Spray System (HVW/MVW), Fire Alarm Systems (Conventional/Addressable), CCTV System, CO2 Flooding System, Wet Riser System, Gas Detector System, Foam Monitor System, & Public Address System.
We also provide turnkey solutions that include installation and commissioning of the entire range as per TAC & NBC norms. We assure you that we can do any Fire Fighting System Project for all types of building.
We also undertake Annual Maintenance Contracts (AMC's) for all of the above systems for Commercial Premises, Industrial Premises, Manufacturing units, Residential Buildings, Hotels, Hospitals etc.
OUR MISSION:
Our mission is to provide innovative solutions, with customer satisfaction